News
Whistleblower settlement with drug maker featured in SC Lawyers Weekly
The lede in the August 7, 2017 edition of South Carolina Lawyers Weekly feature news of a recent $280 million federal False Claims Act (FCA) settlement with Celgene Corp. involving Dick Harpootlian and Chris Kenney. The settlement is believed to be the second largest non-intervened recovery in FCA history.
According to the article by Phillip Bantz, "Harpootlian's three-lawyer firm has gained prominence for securing multimillion-dollar verdicts and settlements in national class actions and personal injury cases[,]" including a $95 million settlement in a 2012 whistleblower case stemming from mortgage fraud involving several big banks.
The recent settlement, captioned captioned United States ex rel. Brown v. Celgene Corp., CV 10-03165 (RK) (C.D. Cal.), pitted Harpootlian's firm and co-counsel from Guttman, Buschner & Brooks PLLC (Washington, DC) and Bienert, Miller & Katzman (San Clemente, CA) against two of the world's largest firms: Jones Day and Sidley Austin, employing more than 2,500 and 1,700 lawyers, respectively. "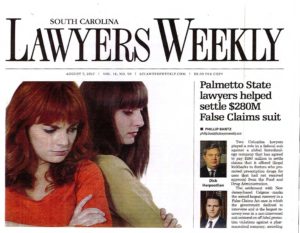 We're very please with the way we were able to go toe-to-toe with those large firms," Harpootlian is quoted explaining.
The case was brought by a whistleblower, former Celgene sales representative Beverly Brown, alleging Celgene sold Thalomid and Revlimid "off-label" for uses not approved by FDA or covered by publicly funded health insurance programs like Medicare and Medicaid. Brown also alleged the company paid kickbacks to induce physicians to prescribe the drugs and that all of this conduct violated the federal False Claims Act (FCA) and analogous state false claims acts.
The FCA allows whistleblowers with knowledge of fraud to bring a lawsuit to recover money on the government's behalf. If the whistleblower is successful, she can share in a portion of the money recovered. FCA whistleblower actions are filed under seal to allow the government to investigate the claims and decide whether to "intervene" or take the case over. If the government declines to intervene, the whistleblower can go forward on the government's behalf.
In Celgene, the government declined to intervene, but Brown and her counsel pressed forward through summary judgment and negotiated the settlement announced last month.
See All News